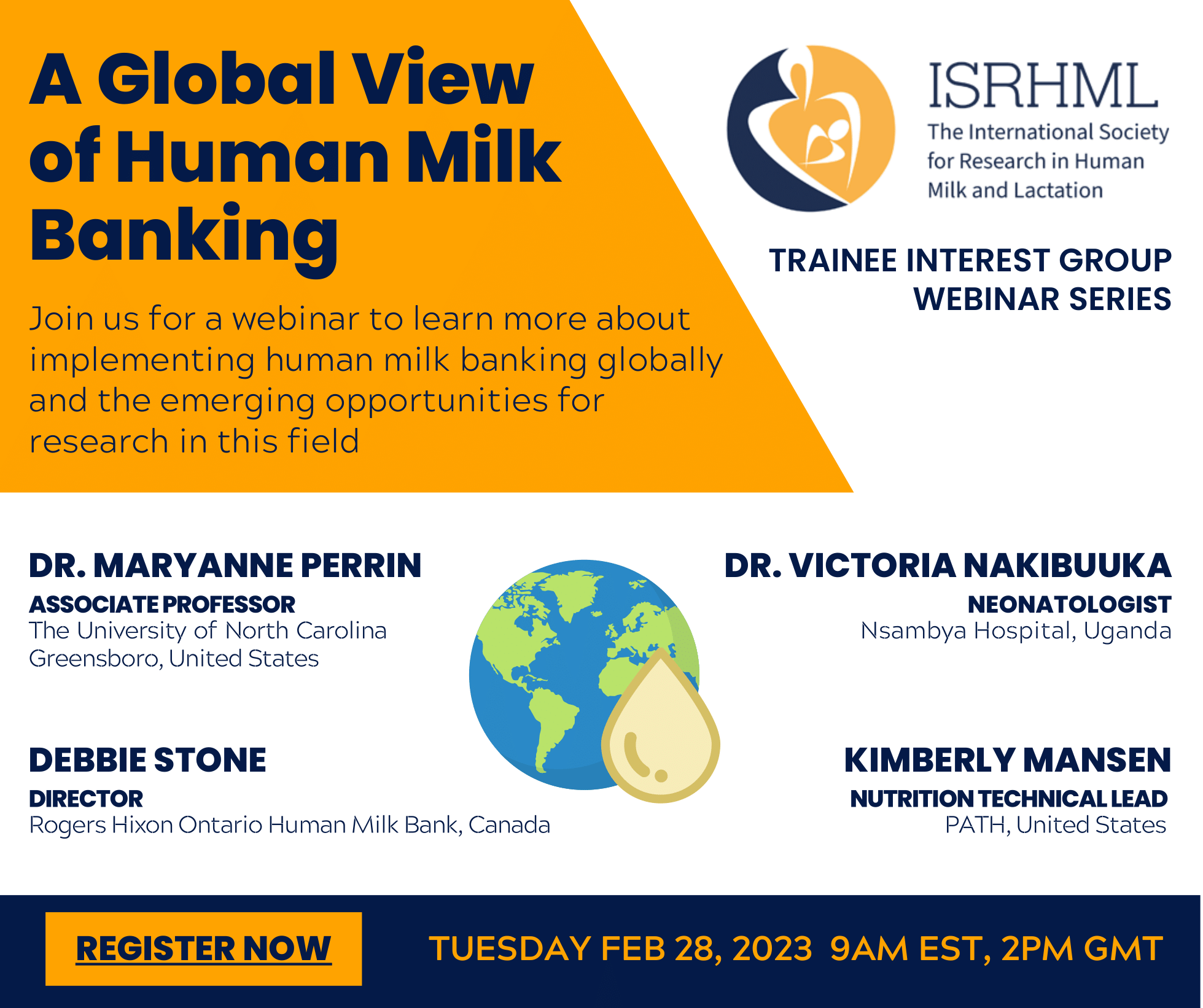 Please join us for a webinar to learn more about implementing human milk banking globally and the emerging opportunities for research in this field. You can register for the webinar here: https://us06web.zoom.us/meeting/register/tZwscuioqjgtGNceu1vARWEDNYaBqiZKifJC
During the webinar we will hear from the following experts in the field:
Dr. Maryanne Perrin trained as a nutrition scientist, industrial engineer, and registered dietitian. She is an Associate Professor in the Department of Nutrition Science at the University of North Carolina Greensboro where her research focuses on providing evidence-based guidelines for the processing, storage, and use of donor human milk. She currently serves as the Principal Investigator on an NIH-funded project to study the composition of donor human milk globally among low-, middle-, and high-income countries.
Dr. Victoria Nakibuuka is a paediatrician by training, with 15 years of experience specializing in neonatology and for the last 8 years has practiced in a tertiary hospital in Uganda. Her professional interests focus on improving the quality of lives of newborns, particularly in health facilities in all areas of Uganda. She spearheaded setting-up the first NICU and human milk bank in Uganda at Nsambya Hospital.
Debbie Stone is a proud mother of 3 breastfed, now adult children, a Registered Nurse, and an IBCLC since 1994.  After 20 years working in Newborn Intensive Care at Toronto's Hospital for Sick Children, she developed a hospital wide breastfeeding education and consultation service, participated in published research, and co-authored the book 'Better Breastfeeding'.  In 2005, she began the journey to bring a Donor Milk Bank to Toronto. In April 2012, Debbie began working at Mount Sinai Hospital, chosen to be the site of the new Milk Bank, to develop the Human Milk Banking Association of North American (HMBANA) standards into policies and procedures required as a developing milk bank. The Rogers Hixon Ontario Human Milk Bank officially opened in April 2013, with Debbie as its Manager/Director.  Now preparing for its 10th Anniversary, the Milk Bank has distributed over 1.6million ounces (> 49,000L) of pasteurized donor milk to hospitalized preterm, cardiac and GI surgery infants in 48 Canadian NICU's.
Kimberly Mansen is a Nutrition Technical Lead with PATH's Maternal, Newborn, and Child Health and Nutrition Program. She is trained as a Registered Dietitian Nutritionist, having experience both clinically and in the global health field. She currently focuses on improving maternal, infant, and young child nutrition, particularly in strengthening systems to improve maternal lactation support and to ensure all infants receive human milk, including vulnerable neonates. She helps to lead PATH's Newborn Nutrition portfolio, including human milk banking activities and consisting of implementation, advocacy, research, and technology development. Her work at PATH has spread across multiple settings, including South Africa, Vietnam, Kenya, and India. Kimberly previously practiced as a Clinical Pediatric Dietitian at Seattle Children's Hospital.